Get your robot ass to Mars.
The Moon? Been there, done that. It's old news now, but what's hot these days is Mars. To be specific Curiosity, the latest Mars rover from NASA. Early this morning, at 1:39 am (EST) Curiosity landed on the Martian surface, and it wasn't long after that before it sent it's first tweet from the Red Planet.
I'm safely on the surface of Mars. GALE CRATER I AM IN YOU!!! #MSL

— Curiosity Rover (@MarsCuriosity) August 6, 2012
This might have been a tweet from anyone, with Curiosity perfectly mimicking the voice of the Internet. Not only was the rover tweeting (and still is), but it also decided to one-up humanity by tweeting a picture from Mars. Take that Neil Armstrong.
You asked for pics from my trip. Here you go! My 1st look (of many to come) of my new home… MARS! #MSL twitter.com/MarsCuriosity/…

— Curiosity Rover (@MarsCuriosity) August 6, 2012
NASA's use of Twitter really show us how far we've come as a society. Before stuff like this would be seen on TV, now it's being livestreamed on the Internet and tweeted (you can following the rover @MarsCuriosity). Impressive. Congrats to the NASA team behind all of this, and especially this dude who became a celebrity over night solely because of his haircut and for being a member of the team. Hell, not long after first being spotted a Tumblr blog popped up about him.
Geeks and nerds rejoice, we've made it back to Mars. Well, a robot has anyway. And if you're still tired from staying up late watching this all happen live and witnessing the joyous cheers, high-fives, and fist pumps of your fellow geeks and nerds at NASA you can use the following xkcd comic to bail you out of trouble today.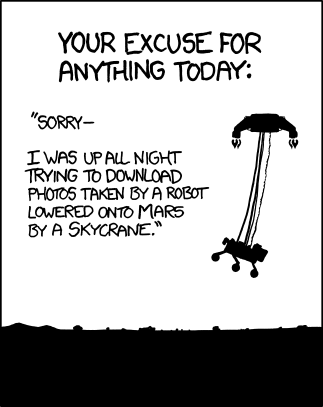 SCIENCE!